Angela Bradbury, one of the founders of the Guild and long-standing teacher and practitioner passed away on the 15th December 2022. If you'd like to send a Tribute, please email info@gni-international.org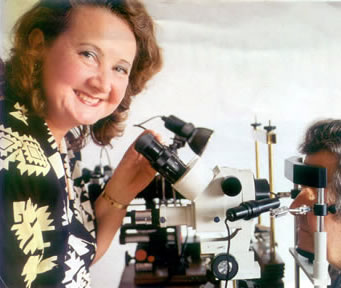 Angela had such a wonderful personality, character and so many amazing qualities. One of her outstanding quality and skill, that I saw and experienced was how Angela made every person feel special and valued. From the most difficult organisational conflicts to the smallest matters, Angela would take the time to listen, reflect and facilitate an amicable solution towards a win-win outcome for all those concerned. In the world of organisational politics in general and in complementary and alternative medicine, in particular this acted as a healing balm.
Salim Khan

---
Angela Bradbury, a true friend and confidante for more than 30 years.
We met via her post as visiting lecturer at an iridology college I was attending all those years ago, and it was massively evident that Angela and Peter's knowledge and commitment to iridology far outweighed the college's own lecturers.
After a little nagging… over a few glasses of "fortification" (as Angela called it )….they were finally convinced that the setting up of their own iridology course …that they had been tentatively contemplating…. just had to go ahead ! The rest is history.
Their courage, dedication and passion to the promotion, teaching standards and research of Iridology via their Holistic Health College, ensured the GNI became an internationally acclaimed association and remains a testament to the insight and determination of these two icons …light years ahead of their time…
We all, and the profession in general, owe them so much.
My beloved Angela, there are no words to convey the sadness in my heart or the void that is left with your passing. I recall the many hours we have spent together over the years professionally and socially, the ups and downs and especially the laughter. You were a great raconteur, a generous and wonderfully eccentric host.
You will never be forgotten….every time I eat langoustines or take a sip of vodka, I shall be remembering you, my dearest friend.
Janet E Spence
---
Angela's professionalism and tireless promotion of iridology have benefitted all within the Guild and the iridology community beyond.
Yet, what I shall cherish most is her care for fellow practitioners, from her welcoming warmth to her words of encouragement and reassurance whenever someone's life hit a bump in the road.
I will miss her talent as a teacher, her wisdom and guidance as an elder in this profession, her listening ear and her gentle words of support.
Julia Russell
---
Angela was a sweet, caring, empathic and funny Lady, with an immense sense of fair play and doing what was right. She was always there when support was needed and gave selflessly to everyone who knew her. Angela joked that beneath her 'velvet glove' was an iron hand and a Scorpio tail, to only be unleashed upon those who stepped out of line to the extreme – seeing Angela 'go into battle' to fight for and protect those who needed her was really something to be seen and admired.
Angela – I will miss you so much now that Peter has collected you for your next exciting adventure, and cherish having been one of your GNI Children.

Abi Francis
---
Angela was so much more than my mentor and teacher she was also a dear friend. Our friendship of ten years has been a gift and a blessing to me, one which I will always treasure. She was very knowledgeable, attentive, perceptive and inspiring but also kind, generous and funny. She delighted us as a class with her wonderful stories and as I got to know her better, she told me more about her personal story. This story was always fascinating, remarkable and complex, even painful memories recounted so beautifully interjected with humour. But what always stood out, is her great love story and partnership with Peter.
I am so grateful so have met and gotten to know such an amazing, wonderful person. I loved her so much and got so much love back in return. I treasure the memories we shared together and will always be thankful for her friendship and love.
Iris Lay
---
She was a remarkable woman and such an inspiration to us all. She was also kind and always made me feel welcome and appreciated as a Guild member and colleague. When I lost my daughter I felt cared for by her when I needed to take some resting time from the Guild. At the end of each year it was always nice to read her little hand written messages of encouragement when the membership renewal letters arrived. She will be very missed by those left behind but now can be together again with her beloved Peter.

Chrissy Gray
---
I have just opened up my GNI e mails after being away from my desk over the holidays as many of us have been of course and read the very sad news about our beautiful leader and angel Angela. That name was meant to be wasn't it. What a selfless and beautiful soul she was and on both a professional and personal note she will be missed by many many people in the UK and internationally. My first introduction to both Peter and Angela was when I joined the Guild some 19 years ago now. Every time I attended a symposium she would be wonderfully motherly and I felt she really made a genuine effort to get to know you and would help you in any situation.
I remember just 6 years ago when I lost a very dear friend and soulmate to suicide she was there on the phone as we shared spiritual insights and we both talked about how to get over a loved one passing. I think it was about the same time or shortly after Peter also passed through the veil. I will always remember her deep kindness and understanding and she invited me to her home the next time I was in London. Sadly I didn't actually make it and then Covid hit which sealed the deal for a year or two of course! I will always be very grateful for that shared time and mutual understanding of our spirituality.
Of course she wasn't just a beautiful soul but also an incredible ambassador for Iridology and naturopathy. What a huge legacy both Peter and Angela have left and they can be very proud shining stars, now together again and still undoubtedly looking after us all and the spirit of the Guild from a slightly more lofty position.
So Angela, thank you for your kindness, wise countenance, unending selflessness and most importantly for being the beautiful human being you were. We will miss you and never forget you!

Janet Wrathall
---
I had heard so much about Angela Bradbury and had the honour of meeting her for lunch along with Helena in January 2020. It was wonderful to be invited to also present at the GNI Conference in Oct 2021.


I felt an instant connection with them both and it was the beginning of a dear friendship. I would often have long chats to Angela on the phone – which she thought was so much nicer than sending emails back and forth. I always felt buoyed and marvelling at how in-tune and spiritual she was. It always impressed on me how she loved to be in the moment rather than dealing with social media and other ways of communicating.
I was so lucky to have visited Angela in her apartment in October this year for a lovely morning together, very connected and relaxed as if we had been friends for many years. I am so inspired by her love of people and Iridology and will forever cherish the connections we had.
Blessings and love Angela – enjoy your time on the other side.

Christos Miliankos
---
---
I am just devastated with the very sad news. I did my iridology training with Angela and Peter, they were a terrific couple and I am sure Angela missed Peter terribly when he died.

I loved speaking to Angela on the phone and last time I was talking to her, she was telling me that she was writing a book. Even speaking to Angela on the phone, you learned so much from her, she was a wealth of knowledge.

I am so sorry, I will miss her so much, as will her family, friends and all the Guild members.

Muriel McMurray
---
Sending my deepest sympathy and comforting thoughts on the sad passing of our dear friend. Angela was truly special a wonderful teacher and mentor. Inspirational, down to earth and kind, she was a true force for good in the world. It genuinely was a blessing to have known her and I along with many others will miss her very much.

Thank you for everything, rest in peace Angela.

Darren Unwin

---
I met Angela and Peter in 1996
I was studying naturopathy already with Dr Bernard Jensen in the US and another college in London. Then I heard about them,
Went for an iridology consultation and I was very impressed by their synchronicity, precision and kindness.
I signed up for their course.
I have to say that it was most enjoyable to study with them and enjoyed their humor and generosity.
A lot of classes were given at their home and we always got a delicious lunch.
Angela and I gave a fun presentation at Regents college at one of their yearly symposiums in the late 90s, which were always well attended.
She was always so encouraging and kind.
After graduation we kept in contact over the years through the various lectures and meetings.
It was sad when Peter passed away after a long struggle.
I visited last late September at her home, and she was as always in good and positive spirit.
I will never forget her and consider her to be one of the best teachers I've ever had.
May you Rest In Peace,
never forgotten xxxx
Marijke Vogel
---
What can I say? Angela!!!!! What an Angel!!! She got me through my exams and passed on SO much knowledge and wisdom, that I would have needed to live thousands of years to accumulate it. She was caring and could see into your soul. She helped me through a very difficult time in my life and helped me make sense of it. Angela will NEVER be forgotten!!!!!

Dr Isabelle Grafin Grote
---