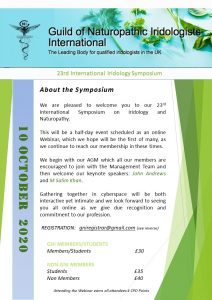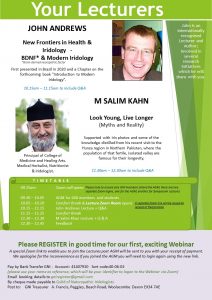 Topic:       GNI International Annual Symposium (23rd)
Date:         Saturday, 10th October 2020
Webinar:  Zoom Link will accompany your booking receipt                          
Theme:      Modern Iridology & Rejuvenation
Presenter(s):  John Andrews, Salim Kahn 
Cost:                £30  – £40   Members/Non Members
Topic:  The Brain
Date:    TBA
Venue:  Indian YMCA, 41 Fitzroy Square, London W1T 6AQ
Theme:  Our Brain is a quantum factor in life's enhancement (or                                      otherwise)  for our bodies, emotion and our souls
Presenter(s):  Angela Bradbury, Marcia Harewood
Cost:  £70 – £80
Book:   Telephone 0207 834 357 /email marcia.harewood@btconnect.com.
The Brain
The Iris BRAIN-BODY RELEX ZONES, researched and elaborated by our pioneers such as  Bernard Jensen DC., ND., much encouraged by Dr Kritzer, whose original, handwritten manuscript, donated by his family to our College – material to be presented.   Comprehensive handouts, chart, visual illustrations and Case Histories will be provided.
In view of exciting new research from Neurological Scientists with ever increasingly finite equipment revealing SPECIFIC BRAIN ZONE FUNCTIONS – Conscious & Subconscious – Neurological & Chemical, Mental & Emotional Circulatory are now well established.
OUR BRAIN IS A QUANTUM FACTOR IN LIFE'S ENHANCEMENT (or OTHERWISE) FOR OUR BODIES, EMOTIONS AND OUR SOULS.
09.30 – 10.00  Registration & Refreshments
10.00 – 12.30    Angela Bradbury & Marcia Harewood will present the Physical,  Mental, Emotional and Chemical inter-reactions between Brain, Spine, Liver, Gastric and Endocrine zones.
Effective Therapeutics for vital corrective measures will also be presented.
12.30 – 13.30  Lunch Break.
13.30 – 15.00  Further Case Studies and Therapeutics.
PLEASE BRING YOUR IRIS,  SCLERA  & YOUR PUPILLOTONIA CHARTS OR TEXTBOOK for cross referencing with the material presented so that you can pin-point root causes.
15.00 – 15.30  Refreshments.
15.30 – 16.30  OPEN FORUM – Question Time. Please feel free to bring along your Case Studies.         
Suggestions for the next Seminar dates for a democratic decision.
To book: 

Telephone 0207 834 3579
ATTENDANCE CPD CERTIFICATES PROVIDED
Fees:- £70.00 – Students.
            £75.00 – GNI Members.
            £80.00 – All other delegates.
Fees include morning & afternoon refreshments, (lunch not included).
_______________________
GNI  INTERNATIONAL SYMPOSIUM
Following the very enjoyable 2019 Symposium we are pleased to confirm that 10th October 2020 will be our 23rd Annual Event 

above a reminder of our 2019 lecturers
Popular Exhibitors/Lunch and Refreshments included
___________
NATUROPATHIC NUTRITION ASSOCIATION (NNA)
If you are a GNI Iridologist or Accredited College and would like to publicise your training lecture/webinar or event please email us at   info@gni-international.org