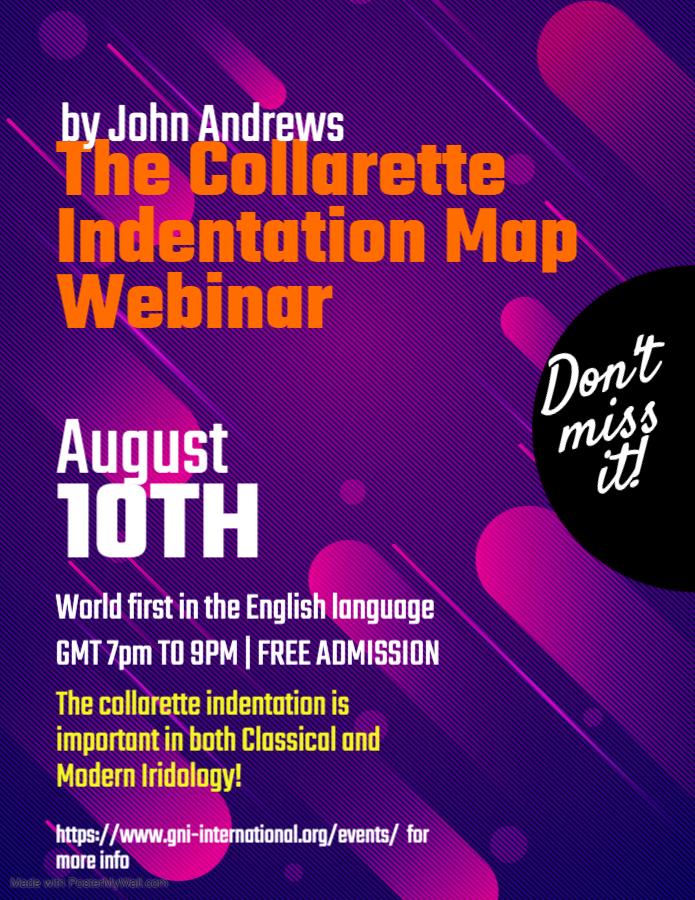 Additional Details for The Collerette Indentation:
(Zoom link details are at he end of this section)
Collarette Indentations occur in 40.23% of a general/average 32,004 population (Andrews, 2021).
This is involves the PNEI (emotional) based iris collarette map with 16 zones for the right iris and 16 zones for the left iris.
The Collarette Indentation has many classical indications and interpretations, plus many Modern Iridology findings on the physiological, genetic and emotional/PNEI potential for the individual.
This webinar presentation will feature the following areas which are lavishly illustrated with iris images and naturopathic clinical cases throughout:
Collarette Indentation Introduction
Local Indentation of the Collarette Historical & Anatomical Background
General Collarette Indentation Indications in Iridology
The Collarette Indentation in Modern Iridology Systems & the Axis in Iridology
Defining Signs In Modern Iridology Systems
The Genetic Predominance of the Collarette Indentation
Multigenerational studies for the Collarette Indentation
Solitary Collarette Indentation Presentation
The Collarette Indentation Map Legend
Collarette Indentation Map Priority
The Collarette Indentation Map Background
Collarette Indentation & General PNEI Indication Tendencies
Collarette Indentation @ 180 degrees/30"
Collarette Indentation with Iris Pigment
Pigments with Collarette Indentation – PNEI indications
Indentation of the Collarette – Emotional Dynamics Corrrelations
Collarette Indentation – Potential Indications for the Pure Brown Iris
Collarette Indentation Therapeutic Protocols
Zoom Details for This event:
Topic: Collarette Indentation Map Webinar delivered by John Andrews
Time: Aug 10, 2022 07:00 PM London
Join Zoom Meeting
https://us02web.zoom.us/j/87860492634?pwd=TUptS3JsMzFvaUlRZ3Nqdm9waHBTQT09
Meeting ID: 878 6049 2634
Passcode: 653072
One tap mobile
+16469313860,,87860492634#,,,,*653072# US
+16694449171,,87860492634#,,,,*653072# US
Dial by your location
+1 646 931 3860 US
+1 669 444 9171 US
+1 669 900 6833 US (San Jose)
+1 929 205 6099 US (New York)
+1 253 215 8782 US (Tacoma)
+1 301 715 8592 US (Washington DC)
+1 312 626 6799 US (Chicago)
+1 346 248 7799 US (Houston)
+1 386 347 5053 US
+1 564 217 2000 US
Meeting ID: 878 6049 2634
The Collarette Indentation Map Legend Percentage Frequencies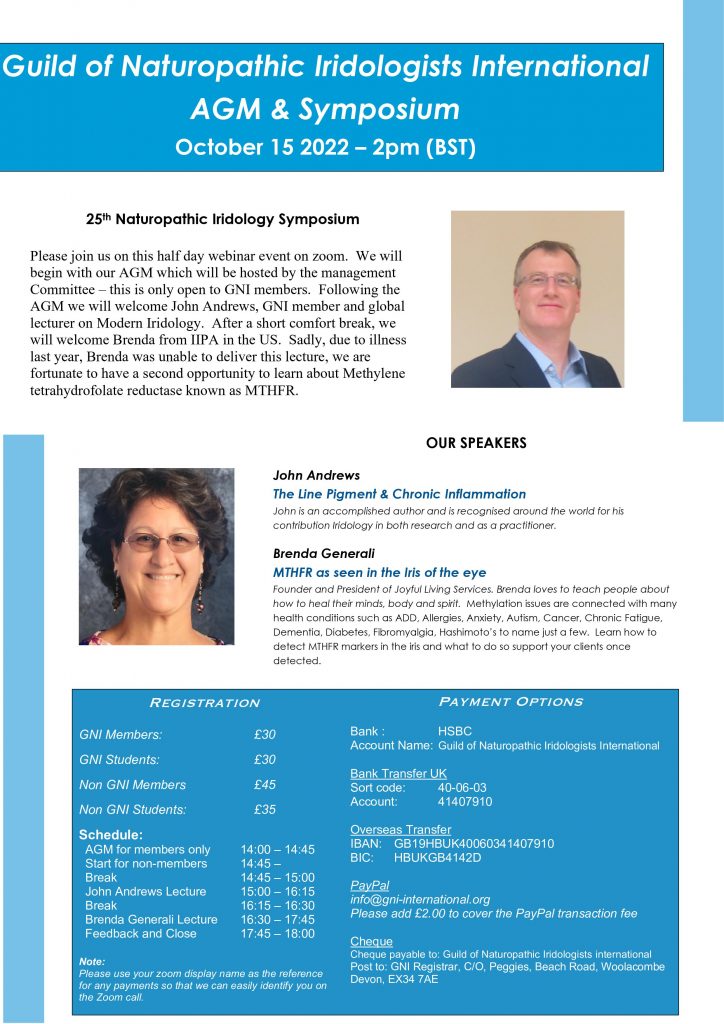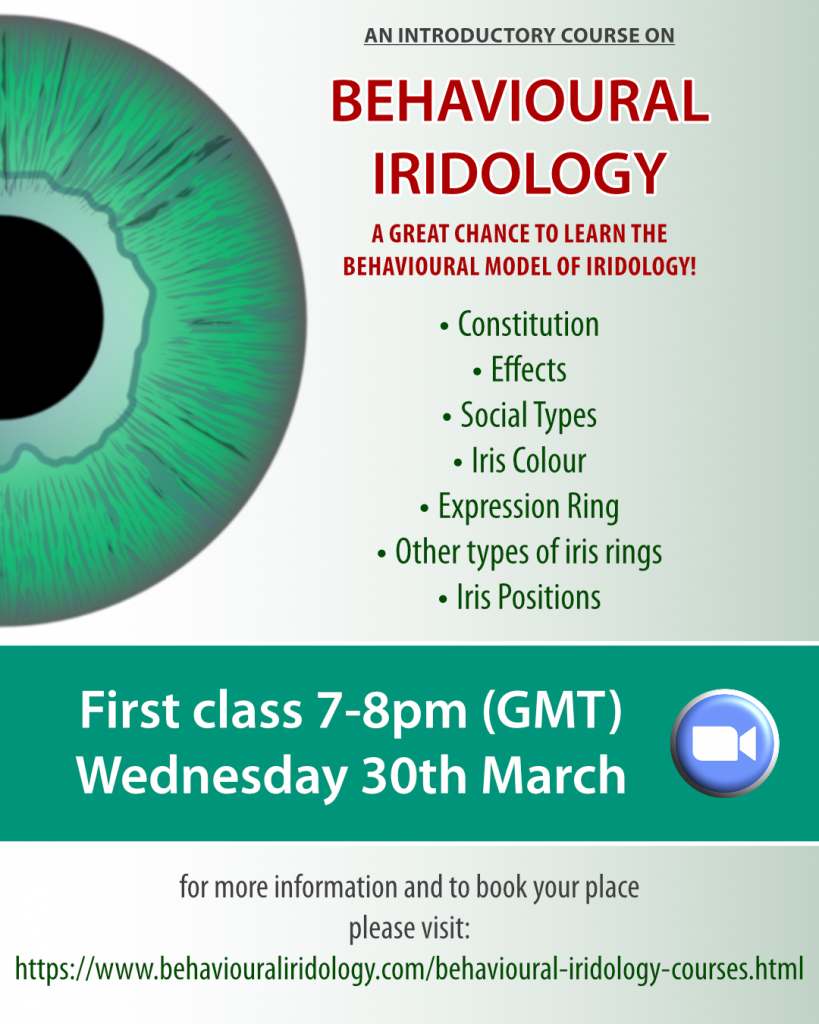 Topic: GNI International 24th Annual Symposium
Post Event Update: What a joy, as always, for members, students and interested practitioners from around the world to spend time together on Saturday 23rd October. We had a last-minute change in Lecturer as Brenda was unable to be with us due to illness. Our huge thanks and appreciation to our valued member John Andrews who stepped in and lectured on 'The Collarrette Gap Map'.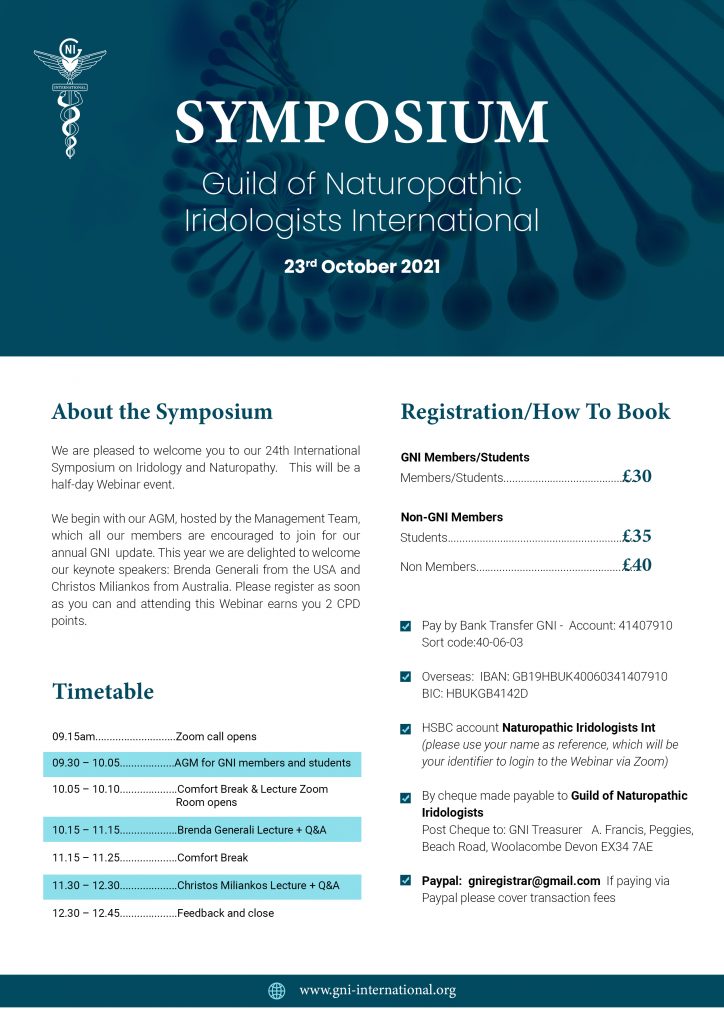 Details on how to book are above. Kindly ensure you cover Paypal transaction costs, including currency exchange rates.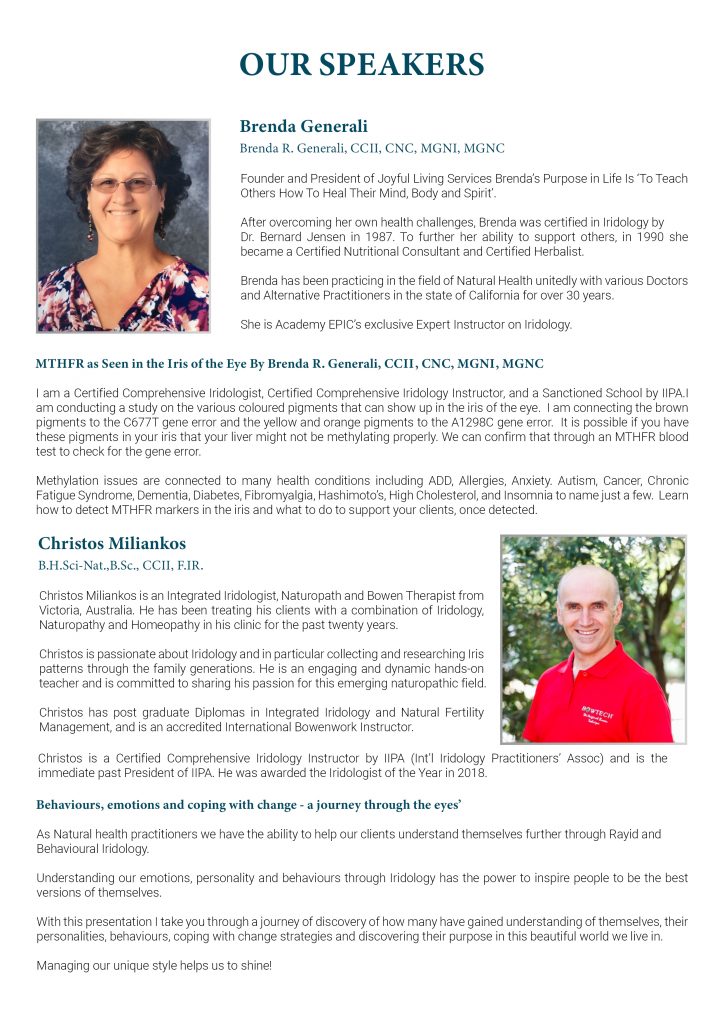 Upcoming Webinar – GNI/John Andrews
Topic: The Next 10 Most Important Signs in Modern Iridology (11 – 20)
Date: Monday, 19th July 2021 7pm – 9pm
Cost: £20 – Zoom link will be forwarded with receipt following payment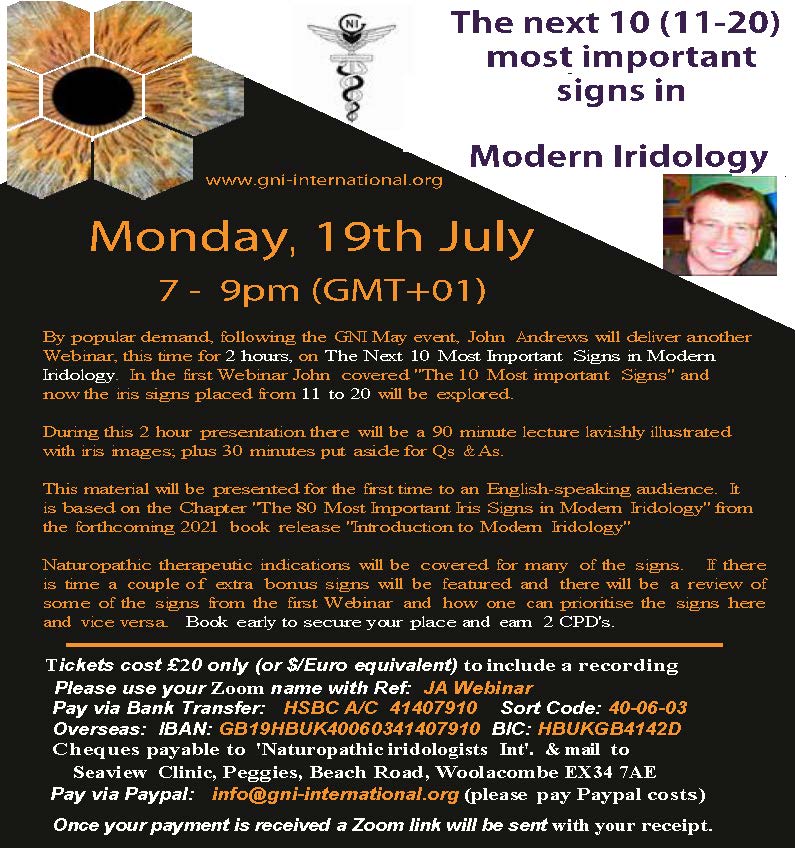 Webinar –

Holistic Health College
Topic:
Date: …………………………. Starts at 9.30am
Theme: Await flyer
Presenter(s): Angela Bradbury, Marcia Harewood
Cost: £40 both days
Book: Telephone 0207 834 3579 or email marcia.harewood@btconnect.com.
To book:

Telephone 0207 834 3579
___________________________________________________________________
10 Most Important Signs in Modern Iridology with John Andrews
Topic: 10 Most Important Signs in Modern Iridology
Date: Saturday, 22nd May 2021 10:00am – 11am
Cost: £10 – Zoom link will be forwarded following payment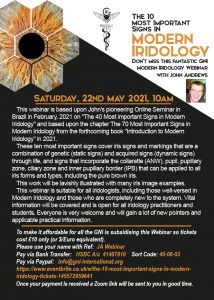 ___________________________________________________________________________
GNI INTERNATIONAL SYMPOSIUM 23rd
Following our first successful Webinar on 10th October 2020 we now look forward to further online events so watch this space. We shall leave our Flyers for the 23rd Symposium on the events page until we set a date and programme for the Annual Symposium for 2021.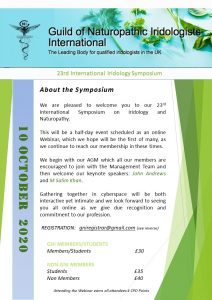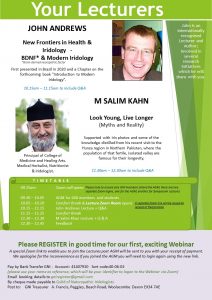 above a reminder of our 2020 lecturers (Webinar)
GNI INTERNATIONAL SYMPOSIUM 22nd

above a reminder of our 2019 lecturers
---
NATUROPATHIC NUTRITION ASSOCIATION (NNA)
If you are a GNI Iridologist or Accredited College and would like to publicise your training lecture/webinar or event please email us at info@gni-international.org